Barcelona Daybed
InJoy
Detail:
Mies Van Der Rohe
Barcelna Daybed FA288B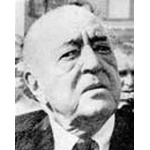 Ludwig Mies van der Rohe (1886 – 1969) was a German-American architect. He is commonly referred to and was addressed as Mies, his surname. Along with Le Corbusier, Alvar Aalto, and Arne Jacobsen, he is widely regarded as one of the pioneering masters of modern furniture.

Mies, like many of his post-World War I contemporaries, sought to establish a new architectural style that could represent modern times just as Classical and Gothic did for their own eras. He created an influential twentieth-century architectural style, stated with extreme clarity and simplicity. His mature buildings made use of modern materials such as industrial steel and plate glass to define interior spaces. He strove toward an architecture with a minimal framework of structural order balanced against the implied freedom of free-flowing open space. He called his buildings "skin and bones" architecture. He sought a rational approach that would guide the creative process of architectural design, but he was always concerned with expressing the spirit of the modern era. He is often associated with his quotation of the aphorisms, "less is more" and "God is in the details".

Mies designed modern furniture pieces using new industrial technologies that have become popular classics, such as the Barcelona chair and table, the Brno chair, and the Tugendhat chair. His furniture is known for fine craftsmanship, a mix of traditional luxurious fabrics like leather combined with modern chrome frames, and a distinct separation of the supporting structure and the supported surfaces, often employing cantilevers to enhance the feeling of lightness created by delicate structural frames. During this period, he collaborated closely with interior designer and companion Lilly Reich.

The modern city, with its towers of glass and steel, can be at least in part attributed to the influence of architect Ludwig Mies van der Rohe. Equally significant, if smaller in scale, is Mies' daring design of furniture, pieces that exhibit an unerring sense of proportion, as well as minimalist forms and exquisitely refined details. In fact, his chairs have been called architecture in miniature – exercises in structure and materials that achieve an extraordinary visual harmony as autonomous pieces and in relation to the interiors for which they were designed.

Mies van der Rohe began his career in architecture in Berlin, working as an architect first in the studio of Bruno Paul and then, like Le Corbusier and Walter Gropius, for Peter Behrens. In 1927, a housing project called Weissenhof Siedlung in Stuttgart, Germany, would bring these names together again. Widely believed to be one of the most notable projects in the history of modern architecture, it includes buildings by Gropius, Corbu, Behrens, Mies and others.

In 1928, Mies and his companion and colleague, the designer and Bauhaus alumna Lilly Reich, were asked to design the German Pavilion for the 1929 International Exposition in Barcelona. The purpose of the Pavilion was to provide a location that could be visited by the king and queen of Spain during the opening of the Exposition. With that in mind, Mies designed a modern throne – known today as the Barcelona Chair – for their majesties. In the following year, Mies designed another notable chair, the Brno, with a gravity-defying cantilevered base.

In 1930, Mies succeeded Walter Gropius as the director of the Bauhaus, where he stayed until the school closed in 1933. In 1937, Mies emigrated from Europe to the United States, and a year later became the director of architecture at the Illinois Institute of Technology. The rest of his career was devoted to promoting the modernist style of architecture in the U.S., resulting in rigorously modern buildings such as the Farnsworth House and the Seagram Building, designed with Philip Johnson.

Product Description:
Barcelona Daybed (1930) was introduced by Ludwig Mies Van Der Rohe, in the Barcelona Collection, after the production of the Barcelona chair. It follows the same design specifications as the Barcelona Chair and stool and therefore can be combined together in any setting. The bed like appearance of the Barcelona Day Bed creates a calm feeling in any part of the home, since it subconsciously reminds you of resting. You can place the bed in your living room close to a large window, in your dining room next to your fireplace or close to your sliding doors that exit to your deck or pool.
Dark wood frame which stands on polished stainless steel legs. This unique bed is made of soft. Italian leather and has a strong cushion tufted. Barcelona DayBed cushion made of leather squares individually hand cut and sewn by leather craftsmen, perfectly attached to the beds frame. The cushion and leather strapping offer the upmost comfort and support for the user. Two stainless steel bars racked on the wooden frame, making bed safe. Barcelona DayBed available in black, white, red leather.