Florence Knoll Bench Sofa
InJoy
Detail:
Florence Knoll
Bench Sofa -FA298B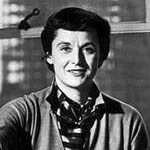 Florence Knoll Bassett (born May 24, 1917) is an American architect and furniture designer who studied under Mies van der Rohe and Eliel Saarinen. She was born in Saginaw, Michigan as Florence Schust and is known in familiar circles simply as "Shu". She graduated from the Kingswood School before studying at the Cranbrook Academy of Art. Knoll also received a bachelor's degree in architecture from Armour Institute in 1941 and briefly worked with leaders of the Bauhaus movement, including Walter Gropius, Marcel Breuer, and the American modernist, Wallace K. Harrison.
In 1938, Hans Knoll founded his furniture company by that name in New York. In 1943, Florence Schust convinced Hans she could help bring in business to his company even in America's wartime economy by expanding into interior design by working with architects. With her architectural background and design flair, she succeeded. They married in 1946, she became a full business partner and together they founded Knoll Associates. A new furniture factory was established in Pennsylvania and dealers in Knoll's furniture were carefully added over the next several years.
Florence Knoll felt architects should contribute their design ability to furniture as well. Some of these furniture designs would become design icons of the 20th century and have remained in the Knoll line for decades due to their timeless design. When Hans Knoll died in a car accident in 1955, Florence Knoll took over operation of the company. Florence Knoll herself designed chairs, sofas, tables and casegoods during the 1950s, many of which remain in the Knoll line to this day. In 1958 she married Harry Hood Bassett.
Her American interpretation of minimalist, rationalist design theories is clearly evident in Knoll's storage pieces. She mixed woods and metals to great effect and added laminates as they became popular. Dressers and desks are all square in design but never lack for quality. Hanging cabinets have glass shelves, sliding doors and drop down fronts that can be used as bars.
As an architect, Knoll's most famous creations are the Connecticut General Life Insurance building in Bloomfield, Connecticut and the interior of the CBS Building in New York City.
In the 1950s Florence Knoll's work was often displayed at the Museum of Modern Art's "Good Design" exhibits. Although Knoll did a great deal of residential work, the International Style she worked in was specially in successful corporate offices.
Knoll's vision for the new office was clean and uncluttered, and the corporate boom of the 1960s provided the perfect opportunity for her to change the way people looked at work in their offices. Her open plan layouts created clean, uncluttered spaces a perfect venue for her furniture. Companies like H. J. Heinz, CBS, and Connecticut General Life Insurance all embraced this new way of organizing business space.
Knoll retired as Knoll president in 1960, but remained with the company as the director of design until 1965 when she retired completely.
Product Description:
The Florence Knoll Sofa is a classic furniture design that rooted in England in the 17th century. Florence Knoll Sofa designed by Florence Knoll in 1954.
Like so many of her groundbreaking designs that became the gold standard for the industry, Florence Knoll's 1954 Lounge collection has made its way into the pantheon of modern classics. This versatile collection includes a lounge chair, sofa, two-seater bench and three-seater bench.
Florence Knoll Sofa Inner frame by solid wood.High density foam. High polished stainless steel base. Upholstered by Italian leather with hand-tufted buttons.