Bubble Chair
InJoy
Detail:
Eero Aarnio
Bubble Chair -FA-A963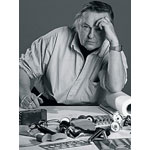 Eero Aarnio (born 21 July 1932 in Helsinki) is a Finnish interior designer, noted for his innovative furniture designs in the 1960s, such as his plastic and fibreglass chairs.
Aarnio studied at the Institute of Industrial Arts in Helsinki, and started his own office in 1962. The following year, he introduced his Ball Chair, a hollow sphere on a stand, open on one side to allow a person to sit within. The similar Bubble Chair was clear and suspended from above. Other innovative designs included his floating Pastil Chair (similar to a solid inner tube), and Tomato Chair (more stable with a seat between three spheres). His Screw Table, as the name suggests, had the appearance of a flat head screw driven into the ground. He was awarded the American Industrial Design award in 1968.
Aarnio's designs were an important aspect of 1960s popular culture, and could often be seen as part of sets in period science-fiction films. Because his designs used very simple geometric forms, they were ideal for such productions. Eero Aarnio continues to create new designs, including toys and furniture for children.
Aarnio's creations are present in the collections of numerous museums worldwide – including the Victoria and Albert Hall Museum in London, the MoMA in New York, the Vitra Design Museum in Weil am Rhein, Germany and the Centre Georges Pompidou in Paris – and he has won many prestigious international design awards – including the Red Dot Design Award and the Compasso d'Oro Design Award.
Product Description:
In 1968 Eero Aarnio designed the famous Hanging Bubble Chair a follow up piece to the Ball Chair which in contrast is transparent so light can come in from all directions. This modern hanging acrylic sphere features removable cushions and hangs from the ceiling at almost any height.
Clear Acrylic shell.Fabric or leather cushion.Steel tube to fix the shell.Include 2 meter chain.Stand frame not include